Who doesn't love spending a day at the zoo? From imitating the antics of the monkeys to practicing your toothy, lion smile, there's plenty to see, explore and do. If you're looking for something new to do at the El Paso Zoo, though, we've got great news for you: The recently completed Wildlife Amphitheater is the perfect way to experience majestic animals, as you've never seen them before – and it's now open!
This open-air venue offers nearly 5,000 square feet of seating space, for over 350 guests to enjoy concerts, educational programs, jaw-dropping shows and more! The El Paso Zoological Society is happy to partner with the zoo to bring one-of-a-kind wildlife experiences to entertain and educate your family
Creating A Better Tomorrow, Today
Thanks in great part to the El Paso Zoological Society, families just like yours can get up close and personal with a variety of wildlife from all over the world. By collaborating with the zoo staff, we provide engaging shows that will increase your appreciation and understanding of animals, and the importance of maintaining their healthy environment. And the best part? It's a memorable experience that your whole family will enjoy seeing again and again!
Soaring to New Sights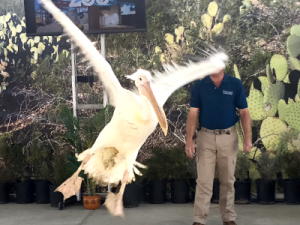 Get ready to me amazed! The Zoological Society is thankful to Paul and Alejandra Foster for their contribution as the major sponsor of the first Wildlife Amphitheater show: Wings of the World. Featuring world-famous, Joe Krathwohl (also known as The Birdman) your family will gasp with delight as a variety of birds take flight and perform aerial acrobatics before your eyes. This free flight bird show features a variety of majestic specimens, including condors, one of the largest birds in the western hemisphere, and cassowary, which are considered the most dangerous birds on the planet.
The breath-taking dives, swoops and soars of Krathwohl's well-trained birds will mesmerize you, spark your children's imaginations and instill a love of animals and learning! It's not just a show, but a life experience – and we're proud to be a part of it!
Come Cheer on Your Favorite Edger!
Even if you're not going to climb down the side of the Mills building, you can still join in on the fundraising efforts and visit as a spectator. The "Block Party" will be in Downtown El Paso at San Jacinto Plaza, on Saturday, February 18th, noon to 8pm with a free concert from 8pm-10pm.
There will be live entertainment, music, food trucks, craft vendors, and kid's zone for younger family members and even a climbing rock wall for those people who might not, ahem, be brave enough to scale down a multi-story building.
We're Dedicated To Preservation!
"The Birdman" bought his first bird, a small parrot, when he was just 10 years old. This began what has become of lifetime of dedication to the care and preservation of birds. Like him, we're also dedicated to our planet, and the animals who inhabit it. Through our efforts, we hope to instill that same love and enthusiasm in the next generation!