The days are warming up and summer break is here. You know what that means, don't you? Zoo Camp! If your child loves animals, the great outdoors, or simply has an insatiable curiosity about the natural world, Zoo Camp offers a one of a kind summer adventure!
A Summer Of Wonder
For children ages 6 to 10 years old, we offer two types of camp throughout the summer. If your child is fascinated by cold-blooded creatures that slither and creep, then the Reptile Camp can't be missed. The Reptile Weeks are:
Does your child keep their eyes on the sky? Then let their imagination take flight by signing up for our Bird Camp. The Bird Weeks run through:
July 3-7
July 17-21
July 31- Aug 4
Even better, sign your children up for both camps! Just be sure to register early – spaces are limited. Your child's camp day begins at 9:00 AM and ends at 12:00 Noon.
Adventure Awaits!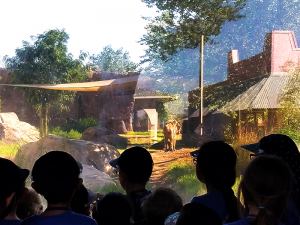 Along with supporting the zoo, the El Paso Zoological Society endeavors to share a love of nature and concern for conservation with patrons. Zoo Camp is designed to help your child experience the world that they live in, in a whole new way, while developing a love for our planet.
Zoo campers can look forward to games, crafts, songs and getting up close to our resident animals. There are also rides on the African Star Train, cooling off at the Hunt Family Desert Spring and so much more. Zoo Camp offers an unforgettable adventure – and you'll be amazed how much your child learns, all while having fun!
Not A Zoo Member?
You're missing out if your family doesn't have an El Paso Zoo Membership. Along with many great perks, your membership also gets you a discount for Zoo Camp! For non-members, the weekly fee for each child is $110. If you're a zoo member though, your child can enjoy all of the week's camp activities for just $95.
Not only does your membership support the zoo and help the animals, it also offers a lot of benefits for your family to enjoy. With your year-long free admission to the El Paso Zoo you'll also get discounts for over 100 other Zoos and Aquariums across the United States, as well as discounts at our Safari Outfitters Gift Shop and more.
Sign Up Today!
Register for Zoo Camp early so your child doesn't miss out on a great summer adventure! Each camp has only a limited number of spots to ensure that each child has the optimal summer zoo adventure. Call today or visit us online to sign up for our 2017 El Paso Zoo Camp!