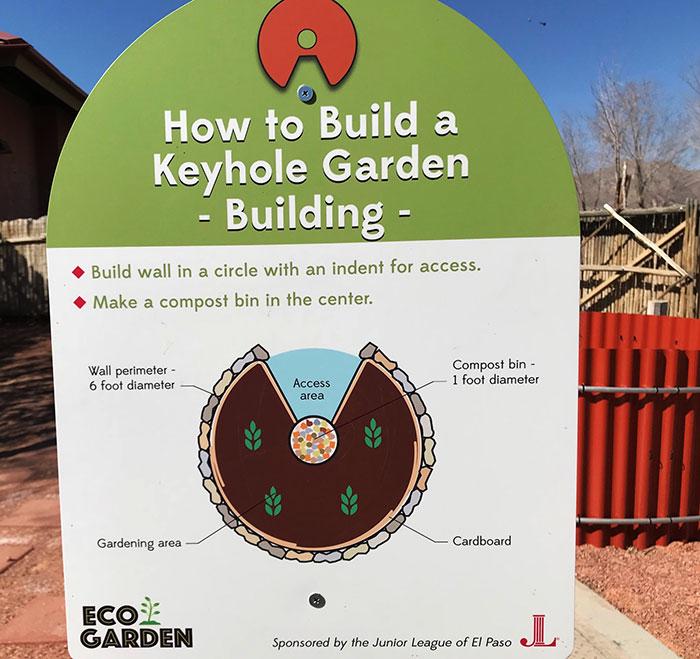 Here on our 35 acre Zoo, sponsored by the Junior League, in the Africa section is a true gem, our Eco-Garden! A true example of sustainability here in our borderland. This type of gardening initially started by a humanitarian aid organization in South Africa.  Keyhole gardens, like the one here at the Zoo are able to hold moisture and nutrients due to an active compost pile placed in the center of a round bed.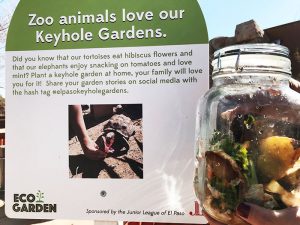 The concept of the keyhole garden is incredibly simple, standing waist high; the planter is in the shape of a pie with a slice cut out. A hole in the center of the planter holds a composting basket that moistens and nourishes the soil and uses a drip irrigation system and requires significantly less water than a typical garden. Now, many of you may be asking, "well, what can we compost?" If you look at your everyday food items, you would be very surprised as to what you can use! You can compost, eggshells, fruit scraps, coffee grounds and vegetable waste. Reports from the humanitarian aid organization have shown just three of these gardens can feed a family of ten in Southern Africa for an entire year. AMAZING!
Here at the El Paso Zoo, this sustainable garden helps grow crops that are typically incorporated into daily animal enrichment. With this keyhole garden, we are able to promote sustainability and conservation right here in the 9-1- 5. Are you interested in learning more about this type of keyhole garden and how to make it in your very own backyard?
Come and join us here at the El Paso Zoo to find out more ways in which we can cultivate opportunities to promote sustainability and conservation together. Added  bonus: we also help with that green thumb!