The El Paso Zoological Society is the support organization for the El Paso Zoo.
Founded in 1963, the Zoological Society is a 501 c (3) non-profit organization governed by a volunteer Board of Directors and supported by local donors. It is not a part of the City of El Paso, but a separate legal entity. Donations are tax-deductible in whole or in part.
MISSION STATEMENT
The El Paso Zoological Society is a vital partner to the El Paso Zoo, essential to its growth and success, advocating for the Zoo in the Community, and providing capital fundraising, operational support, membership and volunteer services.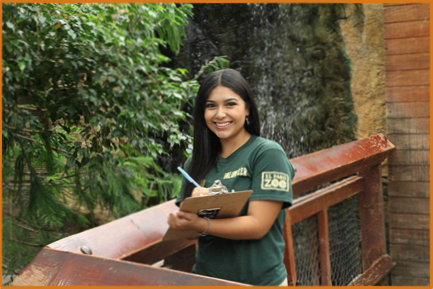 ENVISIONING THE FUTURE
The El Paso Zoological Society and the El Paso Zoo embrace a strong partnership in building a premier recreational destination in our City. We work closely to develop meaningful programs and engaging exhibits that emphasize conservation and an appreciation for wildlife and healthy ecosystems.
The El Paso Zoo creates memories, reinforces values, and ignites passion for nature and life that elevate the imagination, bringing the world to west Texas and allowing over 350,000 visitors per year to experience animals from around the globe. The Zoo reinforces students' classroom lessons, provides families with a venue for exploration and wonder, and grows an understanding of our ability to conserve locally for global impact.
Supporting the El Paso Zoo through the Zoological Society strengthens our community's number-one attraction and enriches the essence of this great city.
BOARD OF DIRECTORS
Pam Agullo, President
Yvonne Ojeda, President Elect
Elena Tejeda, Vice President
Frank Nugent, Jr., Treasurer
Liz Fowlkes, Secretary
Scarlett Mercer, Board Development
Michaela Ainsa, Fundraising
Shea Herman, Fundraising
Richard Behrenhausen, Advisory
Sarah Byrne
Jose 'Pepe' De Alba
Wendy Lanski
Leyla Zeidan Safa
James Schichtl
Monica Spencer
Joe Montisano, ex-officio
STAFF
Renee Neuert – Chief Executive Officer
Beatriz Uranga – Chief Operations Officer
Olivia Christine Siqueiros – Events & Social Media Manager
Mariana Hernandez – IT Administrator 
Alejandra Aburto – Membership Manager
Maria Montoya – Volunteer Manager
Alondra Skinner – Volunteer Program Assistant
Deyana Lozano- Lead Membership Clerk
Ruby Raucho – Membership Clerk